About me...
I have over thirty years of broad industrial experience with a focus on building and managing management and executive development departments and functions. My experience includes the design, development and implementation of fully integrated development and succession systems in support of strategic business initiatives, I have coached executives and managers on a variety of people-related issues.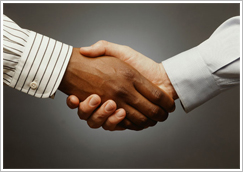 Global Experience: Paul's international work has included the design and implementation of succession planning processes,

global organizational satisfaction surveys, and

career and leadership development programs.

Coach: Paul has coached individuals at a variety of levels, both corporate and private, from plant managers to presidents, on business and career matters, including the handling of difficult relationships issues.

Author and Researcher: Paul has studied the impact of counterproductive employee behavior on business, and has published his findings on the role of personality and integrity on the organization in professional journals and books. He is the author, with Robert D. Hare, of an assessment instrument entitled the B-Scan for use in employee selection and succession planning.

Speaker: Paul speaks to business and professional audiences around the world on the topic of fraud and the corporate con.

Education: Paul has a doctorate in Industrial & Organizational Psychology from Stevens Institute of Technology, where he also studied physics, engineering and management science.

Affiliations: Paul is a member of various professional organizations, including the American Psychology - Law Society (AP-LS),

the Society for Industrial and Organizational Psychology (SIOP),

the Society for the Scientific Study of Psychopathy (SSSP - Charter Member),

the Association for Psychological Science (APS - Charter Member),

the American Psychological Association (APA), and

the American Society for Training and Development (Past President - ASTD Westchester Chapter).

Paul is a licensed psychologist in New York and North Carolina. He lives in Dutchess County, New York.
Confidential coaching and consulting
A provocative speaker
A thought leader in his field
Thirty years business experience
Industrial & Organizational Psychologist
Available for phone consultations

"Paul brings a unique perspective to his work, mixing both his personal experience and his understanding of organizational and business psychology."

"Paul is always available to help....his response time is admirable, exactly what one wants from a consultant."

"Paul sees through to the real issues very quickly and is not afraid to probe all possibilities"